Scheduled surgical procedures
An update for our patients
We would like to update you about our decision to thoughtfully reintroduce elective surgeries at our facility. Our commitment to safety protocols has us uniquely prepared to reintroduce services, and we remain vigilant when it comes to sanitation, screening, visitor restrictions, masking, as well as guidelines from the Center for Disease Control (CDC).
Find out your COVID-19 risk
Concerned about whether you have COVID-19? We can help you take the first step.
Use our free screening tool below to assess your risk and receive the most appropriate care recommendations based on your symptoms.
---
In addition to our enhanced safety precautions including limiting entry ways and conducting visitor screenings, we have now implemented temporary visitor restriction guidelines to further ensure the safety of those we care for.
Learn more about our visitor policy
---
Universal Protection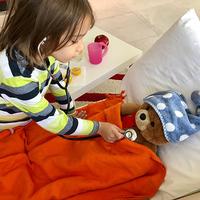 Parenting and coronavirus: Caring for children during COVID-19
May 28, 2020
Should your child go to their doctor's appointment? Here's what you need to know about caring for your child during the coronavirus pandemic, including when to get them checked for COVID-19 and more.
---
Parenting and coronavirus: Positive parenting tips during COVID-19
May 26, 2020
Everyone reacts differently to stressful situations, including children. If your child is causing disruptions or behaving poorly at home, implementing these positive parenting tips may help your child cope with the stress caused by the coronavirus ...